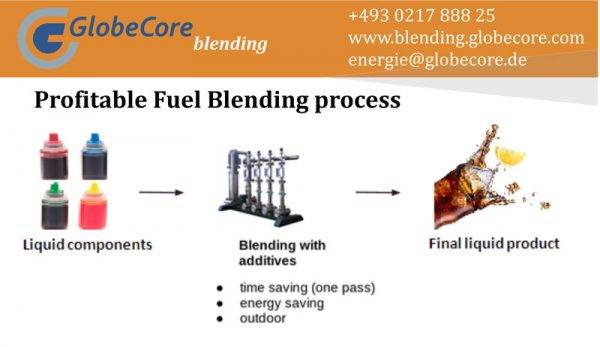 Primary benefits of Liquid blending system "USB" are: final product without foliation, for the long period; broad spectrum of applicability to materials; high speed of mixing; variation of volume of loading; operation in hermetic conditions, simplicity and ease in service. Liquid blending system "USB" manufactured by GlobeCore provides constant quality of all batch of a compounds, even in switching time of account capacities, shortages of raw materials, loss of power supply or in an improbable case of a failure of one of system components. The ready-made product mixes up in the hydrodynamic ultrasonic adder of compound installation and provides persistence and accuracy of the set analyzer. In the same place there is a flange for sampling.
Liquid blending system use hydrodynamic mixer compounding process. Mixer blending process allowing to give all components in the set prescription ratio in the general mixing collector after which the ready-made product moves in the tank.
Advantages of such technology are exact control of dispensing of each component, considerable reduction of duration of a mixing cycle and refusal of mixing capacities use for ensuring homogenization of a ready-made product. During mixture process in the line mixer the expense of each component is constantly regulated for the purpose of providing at the exit from a mixing collector of a ready-made product with stable quality indicators according to the set compounding.
It is necessary to make additives injection in the main liquid component according to technology, using additives mixing system and observing a temperature mode. Also the economy of the electric power is important, because liquid blending system works by the principle of one power plant – which is put in mixing process by only one electric motor and one pump unit.
Each additive of liquid blending is developed and made for specific client, according to technical requirements of the customer.
This system could be integrated into existing productions, and also projected from the very beginning and on a turn-key basis.
Hydrodynamic ultrasonic systems "USB" are developed by the individual order, and components of mixing system get out on the basis of need to conform the requirements of your work, whether it be at design of new system for mixing with the minimum difference of pressure, or at development and deployment of a new control system for existing infrastructure. Installations are delivered with full integration of systems and can be established as separate stationary blocks for installation in parks of capacities, on piers or pipelines with the full-fledged integrated system or with a separate control system, or on separate mobile base for application on different loading piers.
Advantages of hydrodynamic cavitation systems
 Low power consumption;
 High power of cavitation and acoustic influence;
 Low cost of received cavitational and acoustic energy;
 Simplicity of operation;
 High technological effectiveness in hardware registration;
 It is projected on any productivity;
 Combine technological operations;
 Simplifies hardware registration of processes;
 It is easily aggregated with highly reverse drives;
 Small metal consumption;
 Technological adjustability with optimum parameters.
Technical specifications of the most popular blending systems

Value

USB-18/3

USB-18/5

USB-20/3

USB-60/3

USB-60/5

USB-100/4

USB-100/5

Productivity, m³/hour

18

18

20

60

60

100

100

Mixed liquids amount

2…3

2…5

2…3

2…3

2…5

2…3

2…5

Main component consumption, m³/hour

17

11

13

57

50

100

100

Additives consumption, m³/hour

0,25…2,5

2…7

0,25…2,5

0,5…3,5

0,1…1,0

0,4…4

0,4…4

0,1…1,0

0,5…3,5

0,1…1,0

0,1…1,0

0,0…0,02

0,4…4

0,4…4

–

0,5…3,5

–

–

0,25…2,5

2,5…25

0,05…0,5

–

0,15..0,65

–

–

0,5..6,3

–

2,5…25

Fuel given pressure to installation, mPa

0,8

0,8

0,8

0,8

0,8

0,8

0,8

Power consumption, kW

15

15

15

36

36

55

55

Height of mix lifting, m

up to 15

up to 15

up to 15

up to 15

up to 15

up to 15

up to 15

Overall dimensions, mm

500

500

500

700

1000

2000

2000

500

600

500

1200

1500

1400

1400

1500

1500

1500

1550

1850

2200

2200

Weight, kg

130

170

185

450

750

1450

1540
If you want to reduce expenses of you company for fuel production, "USB" cavitation blending system could help you to do that. To receive extra information contact us and technical manager will call you back or download inquiry list and receive free catalog.