Liquid blending system USB-18/5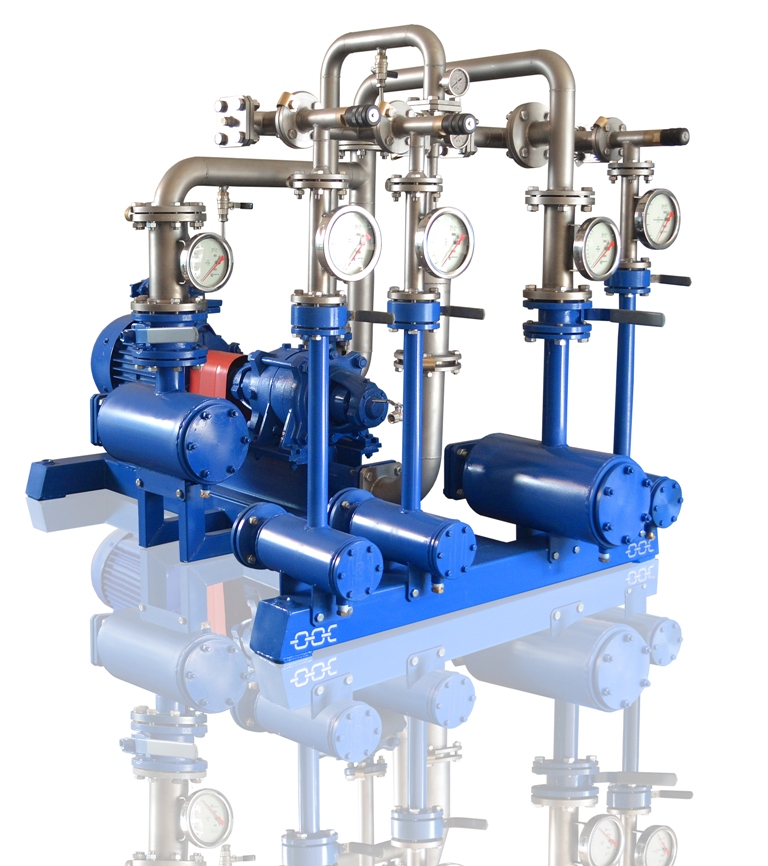 Liquid blending system USB-18/5 type is designed to blend up two to five separate liquid components, particularly low-bracket gasoline with additives, to prepare multi-component blending motor fuel including vegetable additives.
The system can be used at enterprises of oil-refining and food industry likewise at petrol stations.
It is designed to be operated indoors as well as outdoors under a shelter.
System design allows operating at new enterprises under construction as well as at operating ones..
Modern hydrodynamic (stream) blending plants have shown themselves in industrial operation as economic, accurate and steady means for high-quality motor fuel production with optimal prime cost. In comparison with existing technology of components blending at blending vessels, reached economy and increasing of production profitability can force investment return up to 60 % for a year and provide project payback for one year or less.
HYDRODYNAMIC BLENDER
Blending process is used in hydraulic blender. This process allows supplying of all components simultaneously according to the set formula to batching collector. Through the collector finished product is delivered to storage vessel. The advantage of such technology is in the following: each component dosing accurate control, substantial reduction of batching process duration, no need in batching vessels for finished product homogenization. In the course of blending process at stream mixer the consumption of each component are permanently controlled for the purpose of providing finished product outlet with steady quality parameters, set with the formulas.  Finished product, received from stream mixer, has homogenizing structure and component content in accurate compliance to set formulas.
2. SPECIFICATIONS
Таble 1
 №

Parameter

Value

1.

Blended fluids quantity

2-5

2.

Basic fluid mixer capacity, m3/h

8,5

3

Five components mixer capacity, m3/h

18,0

4.

Amount of dosed liquid, m3/h:
 -flowmeter 1

1…10*

 -flowmeter 2

0,5…4,0*

 -flowmeter 3

0,5…4,0*

 -flowmeter 4

0,025…0,25*

5.

Blending gasoline mean weight aberration, %

0,2

6.

Set power consumption, kW

15

7.

Basic fluid discharge pressure, МPа, max

0,8

8.

Mixture rise height, m, max

5

9.

Dimensions, mm:

– length

– width

– height

1100

550

1270

10.

Маss, kg

390
*Stated specifications are right for the one working flowmeter
3. SET OF DELIVERY
 3.1 Set of delivery complies with the units stated in the table 2.
Тable 2
№

Designation

Quantity,

pcs

1.

Ready-fitted system with pump TsNS 20/120

1

2.

Certificate with operational manual

1
Note. Other pumps with similar specifications can be used.
ADVANTAGES
* Increases shelf-life, stability, and quality
* Reduces bacteria levels and its formation
* No moving parts eliminates vibration & reduces maintenance
* Reduced fouling leads to higher thermal efficiency
* Cold flow properties of biodiesel are improved
* Water droplets encapsulated in a ethanol or diesel fuel
* Instant emulsions with micro to nano particle sizes
* Results in viscosity decrease, cetane number increase
* Reducing maintenance and operating costs
* Advanced cavitation technology
* Up to ten stages cavitation
* Mixing to submicron levels
* Reduces reaction time
* Improves product stability
* Small footprint
* Available in All Stainless Steel